Serial Con Artist Lloyd Perkins (Waldron) Strikes Again In Newcastle-Under-Lyme
Residents and shoppers (and current staff) in Newcastle-Under-Lyme were recently shocked to find the newly opened Independant Bar and Grill closed, with a notice stating the brewery had taken back control of the premises, with no further information as to why. Following our investigations we later found that the brewery had to force entry to the premisis and change the locks, as they had contacted the owner to give him notice to terminate his contract, due to non payment of rent, but he failed to respond.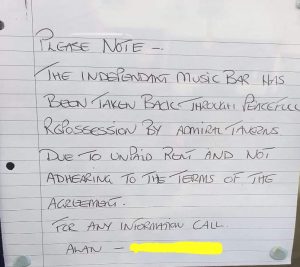 The bar was taken over in late 2018 by Lloyd Perkins, there was various delays and the bar was finaly opened. Just a few months later in February 2019 the bar is now closed, with no sign of the owner Lloyd Perkins.
We found that just after the bar opened, a number of staff were fired by the bar manager, via a text message late at night, the reason stated was that to many staff had been employed. Annoying as this was for the staff concered, they thought no more of this, expecting to get paid what they were owed. Little did they know this was just the start of their problems, and it would highlight a string of fraud committed by the owner Lloyd Perkins.
Despite chasing the payments for a number of months the dismissed staff found other current staff who had not been paid. The owner kept coming up with a string of excuses as to why the payment had not been sent. We can also reveal that the owner admitted that forms containing the personal details of a number of members of staff had been lost by the manager he employed, some staff had to provide bank details 4 or 5 times, but to this day have not received any payments.
It appears that Lloyd "used" a number of close friends and family members to assist him with setting up the venue, these individuals were paid. A regulaur feature at the bar was the well known local DJ Trevor M, who is beleived to be related to Lloyd. From what we know these people were not aware of the fraud that Lloyd was comitting, or had comitted in the past. Im sure they will now think twice about helping him at any future venues knowing the serious nature of the fraud he is involved with.
Since the Independant Bar and Grill was taken back by the brewery we have found out that the owner Lloyd Perkins had not paid any of the rent to the brewery, nor has he paid the brewery suppliers, nor had he paid any utility bills and not forgetting the staff wages ! Some staff had been paid, or had a small amount of money owned, but most staff have had nothing.
Unfortunately this is not the first time Lloyd Perkins has done this, there is a string of similar offences going back a number of years across the West Midlands area.
His most recent venture was the Independant Bar and Grill in Newcastle under Lyme, he operated this under the name Inception Food Limited he has other venues in the Midlands area that operate under this name.
In the past he has comitted financial fraud under a number of different companys such as White Sands Restaurants Group Limited which closed in July 2018, with the same story of owing staff and suppliers thousands of pounds. Past failed companys include Cre8tiv Design & Print Limied and Our Print Limited and The Living Room Bars Limited to name a few ! (we have a full list of others to many to metion)
Lloyd Perkins was born in July 1971 and is originally from the Stoke on Trent area, he is also known as Lloyd Waldron or Lloyd Waldron-Perkins. He is wanted by hundreds of individuals and business for non payment. His crimes have also been reported to HMRC and the police and investigations are ongoing. He appears to move around alot with no fixed addresss, people have contacted his friends and faimily in an attempt to track him down.
Lloyd Perkins ( Lloyd Waldron or Lloyd Waldron-Perkins )

Lloyd Perkins ( Lloyd Waldron or Lloyd Waldron-Perkins )
If you get close enough to "shake his pram" then he often responds with threats from Soliciators, all which appear to be false threats, we have seen messages from his ex staff members where his past soliciators are looking for him also, we can only guess he owes them money to, as they are "very keen to speak to him".
We have heard story's from individual members of staff where they have lost almost evyerthing they own because of this con man and his lies regarding paying their wages, we have been made aware of at least 2 people who state they lost their homes due to non payment of wages. He has been taken to court a number of times by staff who are owed money but has failed to appear.
So, if your ever offered a job in a bar or restaurant, or your a supplier and the name Lloyd Perkins or Lloyd Waldron or Lloyd Waldron-Perkins is mentioned don't accept the work, and inform as many people as you can, you will NOT get paid.
In order for us to obtain the information required for this story we have seen a number of posts on social media and website forums regarding him. We have spoken to lots of different ex staff members and businesses who he owes money to. We have been given documents, and copy's of messages all relating to non payment of staff or bills/invoices.
LLoyd is currently living in Birmingham and maybe opening a business in the city centre, we will keep you updated.
We are finding new things out almost every day regarding this story. We will keep you updated. If you have any further information regarding this story please contact us
Update – Please note that some of the evidance we have includes some personal details for Lloyd and the names and addresses of family members and friends of Lloyd Perkins. We will not supply members of the public with this information. We have been advised if you are owed money by this individual then you report this to the police.
Story – Jason Davis and Laura Johnstone